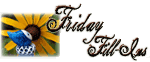 I've seen this done elsewhere, so I decided to try it for myself.
1. When I look to the left, I see
a mess
.
2.
My kitchen
is the room that has the best view in my home.
I can sit at the table and look at my flowers, or stare at my neighbors.
3. Let it work.
I think this often

.
4.
Psychological analysis
done dirt cheap!
(I'll keep my fees down just for you.)
5.
Stewardship (of the earth and her inhabitants)
is a responsibility that all qualified citizens must share.
6. If you have any
money, presents, chocolate, friendly words
feel free
to share with me
.
7. And as for the weekend, tonight I'm looking forward to
finishing the Watchmen,
tomorrow my plans include a
workshop in Lexington
and Sunday, I want to
workout, clean, relax and read
!
Happy Friday!